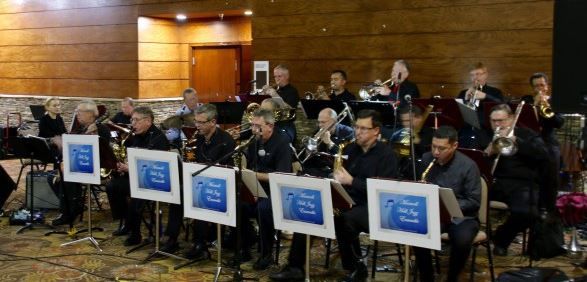 Sharing this new and exciting Musical Adventure ♫♪♫
A month ago I joined the Maxwell Hall Jazz Ensemble. What an amazing experience this is for me! At the first rehearsal they were very warm and friendly and welcomed me with a nice hello. Straight away they settled into the rehearsal, they were running through a few instrumentals so I was able to sit and enjoy and take in all the sound....such a big sound too! 
I was getting more nervous as the minutes ticked by. Then it was my turn.....I stepped up to the mic and ran through my first number. They are very professional and never gave me a glance as I tried to find my place in the song they watched their charts and played beautifully. Then they discussed the charts and went over a few bars together, then straight to next song.
wow....I was delighted it went smooth but your girl knew she had some work to do.  This is a lot different than fronting my band or combo. For me I have to get used to so many instruments each playing different notes, sounds and harmony. The horn section is wonderful....I have never been used to singing with a Trombone player on a regular basis before let alone 3 or 4 of them.  I am used to sax playing but never 6 at one time, and 5 or 6 Trumpets in my ear so it's took a bit to get used to the collective sound. 
As far as the amazing Rhythm section I am used to their sound and comfortable. They all read charts so there is nothing that ever happens on the fly!
At the first oppertunity to speak I made it quite clear that I can't read a music chart but I would always be fully prepared to sing.  I really do wish I had learned throughout my 40 plus years in this business but I didn't and if you remember or have read any of my previous blogs.
I did tell you once I was the young girl that tapped Harry Rabinowitz on the shoulder and explained the same thing to him minutes before I did a live recording for STV ( Scottish Television ) However, by listening to them discuss the arrangements I am learning something new each time and getting an understanding of the correct musical terms.
I'm just letting you know how it's going and that they are a wonderful bunch of amazing musicians that I am delighted to be on this journey with.
Your girl is always learning something new and meanwhile catching so many smiles.
♫♪♫ Music is food for the heart and soul ♫♪♫  I am loving and enjoying this new experience so much. More to come in future weeks ♫♪♫ YJ